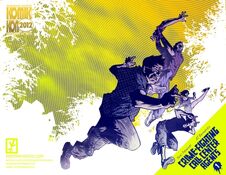 Crime-Fighting Call Center Agents is a comics series from Kowtow Komiks written by Noel Pascual and illustrated by AJ Bernardo. Though it is ostensibly about call center agents fighting crime, as of issue 3, there have not been any scenes yet in the comic showing the protagonists successfully fighting crime or even stepping inside a call center. Rather, the series is firmly situated in the comedy-horror genre and inspired by works such as Scooby Doo and Shaun of the Dead.
Crime-fighting Call Center Agents or CFCCA for short, tells the story of four call center Agents: Noel, Sandra, Koontz and Charlie who have the bad habit of getting themselves in very dangerous and potentially life-threatening situations during their days off from work.
Characters
Edit
Noel Avaya - the oldest among the four protagonists, he has a tendency to betray his own "friends" at the drop of a hat. He is also a survivor of the disease known as male pattern baldness. During adventures, he has a tendency to lose his pants. He has also been known to borrow lighters from friends and drinking buddies and never return them.
Koontz Rivera- he is the thinnest among the four CFCCA. He believes himself to be the toughest among the group and has a tendency to suggest the use of violence and brutal physicality to save their hides. He has a romantic side, though, developed through months of playing a variety of romantic hentai games.
Sandra Mabamba - she has been referred to as "the one who carries a bag" and and as someone who doesn't pay her taxes. She had also received a Colt Python pistol in her barrio once after winning a singing contest.
Charlie - It is unknown why Charlie actually works in a call center as his family owns a multi-national company. As a toddler, he had excelled in various track and field competitions. Not all is peachy in his life, though, as Charlie admits to having been suicidal at different points in his life mostly due to having been given the same lunch everyday. But to his yaya, this existentialist angst is unexplained because Charlie was the one who was responsible for ordering his own lunch everyday.
Issue 1 of the comic had the gang being chased around by a psychotic killer on a bike.
Issue 2 had the gang going to a province and staying in a village which may or may not be occupied by aswang. The story is continued in issue 3 as the gang continue to unravel the dark secrets of this village of aswang.
External Links
Edit
kowtowcomics.com - the tumblr of Kowtow Komiks. Noel Pascual had mistakenly ordered kowtowcomics with a "c" in comics but it is okay because they are generally pronounced the same, the c in comics being read with a hard k sound.
burn-our-dough.deviantart.com - AJ Bernardo's deviantart account.