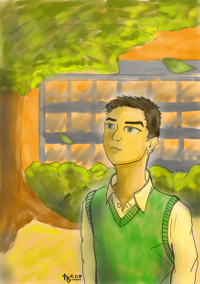 A series based on some side characters for the upcoming series, Ramen Sa Gabi. It was created by Noah Verus.
Originally, the first chapter was meant to provide a prologue for Ramen Sa Gabi. But Banasihan found the dynamics of the three characters featured interesting. Because of this, A Taste of Ramen has become a vehicle to explore the development of these characters further.
The following is based on the plot of the main story of the first chapter, which originally served as a prologue for Ramen Sa Gabi.
The story begins at the end of the school year. It was the last meeting of the basketball team. Team Captain and junior student turning senior, Solomon Santos, has finally called it a day. He wanted to join College sophomore David San Miguel, but the latter did not want him to stick around. As David walked alone in campus, he reflected on how the campus was so quiet at the end of the year. Being part of the basketball team, he knew that some of the upperclassmen that he had worked with will be graduating. This made him feel a lonely in campus. At least, until Mika Liwanag, a junior year student turning senior, appeared before him. The spent some time together, talking about things other than David's loneliness. At the end, Mika made him realize that this end is really just a beginning.
Characters
Edit
David San Miguel - The small, tough guy with a terrible temper. He takes the role of the point guard in the men's basketball team, making him a frequent target of the team captain's attention. (Solomon Santos) One of his hobbies is music, as well as reading books. Because of this, there are times that he really doesn't want to be bothered.
Mikaela Liwanag - Also known as "Mika." She is the team captain of the women's basketball team. She is a good friend of Solomon Santos, the team captain of the men's basketball team. However, she is found to spend more time with David. She likes exercising and going on hikes, a hobby that the geography of the city of Samsara allows her.
Solomon Santos - Team captain of the men's basketball team. He likes hanging around with David. But, he is oblivious to David's occasional dislike of being with someone. Generally, he is kind to his friends. But he has this tendency to intimidate others.